DDoS protection for websites (proxy)
Availability of your website is fundamental in maintaining the reputation of your business; customers expect to access information about your products and services at any time of day. Whether you are earning on your website directly or use it as a compliment to your business, your profits are connected to your website's responsiveness. StormWall's DDoS protection for websites guarantees consistent performance of all your organization's web resources. Using proxy technology, the service inspects all inbound and outbound traffic, ensuring 24x7 website availability. Our solution also offers automatic caching of static content (images, styles, fonts), which will make your website more reliable, run significantly faster, and perform better. This is all included in our service with no extra costs!
Subscription plan
Personal
Business ONE
Enterprise ONE
Number of domains
1
Number of subdomains / domain
10
up to 100
up to 100
Websocket support
Dedicated IP address
No

Included legitimate bandwidth
(excess allowed)

25 Mbps
Max support reaction time
3 hours
30 min
15 min
Expert AntiDDoS support
SolidWall Cloud WAF
By request (contact sales)
By request (contact sales)

Guaranteed availability (SLA), not less than

98 %
99,2 %
99,5 %
Ideal for
Optimal solution for small e-commerce websites, corporate websites and web
Most effecient solution for business
For mission-critical websites and applications

Price per month

140 $

300 $

By request
Personal plan
Optimal solution for small e-commerce websites, corporate websites and web
---
For websites with max visitors (daily)
up to 50 000
Included legitimate bandwidth (excess allowed)
Max support reaction time
60 min
Guaranteed availability (SLA), not less than
98 %
Business ONE plan
Most effecient solution for business
---
For websites with max visitors (daily)
unlimited
Included legitimate bandwidth (excess allowed)
Max support reaction time
30 min
Guaranteed availability (SLA), not less than
99,2 %
Enterprise ONE plan
For mission-critical websites and applications
---
For websites with max visitors (daily)
Included legitimate bandwidth (excess allowed)
Max support reaction time
15 min
Guaranteed availability (SLA), not less than
99,5 %
Who is the service for
The website must work stably - this is a matter of the company's reputation, because customers need the ability to receive information about products and services at any time of the day or night.
If the site is used for e-commerce or mass provision of content to users, then profit directly depends on its reliability and availability.
Protecting a website from DDoS attacks using the StormWall service is equally effective for both small companies and large corporations.
E-commerce, finance and insurance, government agencies
Media, service providers, telecom, entertainment
Corporate and private companies, Internet portals, business card sites
Why your website needs DDoS protection
01
Two thirds of the world's companies are exposed to DDoS attacks every month. They affect the web resources of companies of all industries, government agencies, payment systems, financial and medical organizations, the media, online stores, coupon and game services, cryptocurrency exchanges, as well as equipment connected to the Internet (Internet of Things, IoT).
02
The reason for blocking the work of your site can be the personal enmity of intruders, attempts to extortion, blackmail, the order of unscrupulous competitors, the actions of political radicals and even the entertainment of hackers.
03
Website owners who fail to protect against DDoS attacks risk losing customer confidence, company competitiveness and profits, and the resulting downtime resulting from an attack can cost millions in losses.
04
Attacks are also used to divert attention from attempting to take over your company's database.
Advantages of the StormWall service over other solutions
*
*

Upon request, we will provide a comparative analysis with other solutions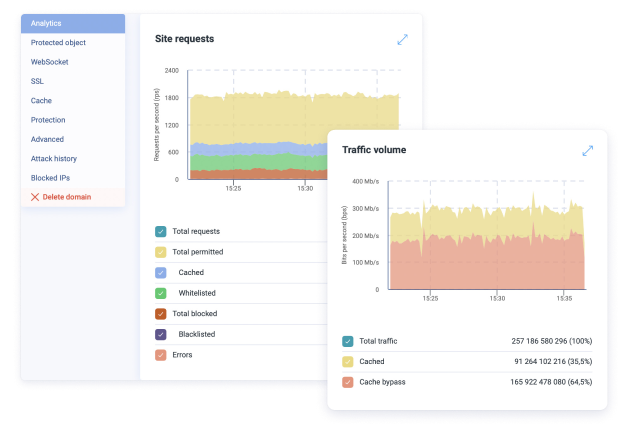 Continuous improvement of the cloud security platform by our own team of experts, which allows us to meet fully armed DDoS and hacker attacks of different nature and intensity
Connection to the service within 10 minutes without transferring the site
Convenient and intuitive control panel
An advanced world-class DDoS protection service using artificial intelligence, which is responsible for detecting abnormal traffic, predicting an attack and determining its likely scenario
Expert technical support 24x7 with a reaction speed of no more than 15 minutes
Guaranteed availability of the protected web resource. All working conditions are spelled out in our contract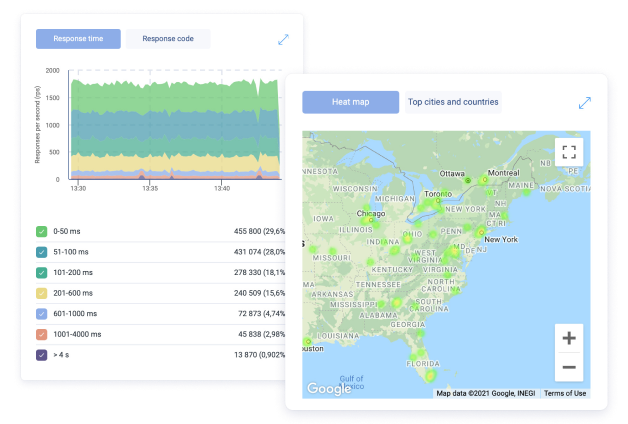 What your company will get
Reducing the load on web servers and filtering any DDoS attack.
Optimal plan with monthly payment
No additional costs for hardware and software
How StormWall site protection is connected
01
You get a secure address in the StormWall cloud
02
Redirect the site's DNS record to it
(independently or with the help of StormWall specialists)
03
The traffic coming from your website visitors is checked, filtered and optimized. Attack traffic is blocked.
04
Only "cleaned" traffic is sent to your server, with the real IP addresses of visitors stored in the HTTP header.
Points of presence
bandwidth without connection inspection
(stateless)
bandwidth with connection inspection
(stateful)
Frankfurt (Germany)
fra.stormwall.pro Equinix FR5
fra2.stormwall.pro e-Shelter FR1
Washington (US)
was.stormwall.pro
Equinix DC3
China (Hong Kong)
hkg.stormwall.pro
Equinix HK1
Moscow (Russia)
msk.stormwall.pro
ММТС-9
Kazakhstan (Almaty)
alm.stormwall.pro
KazTransCom
How we ensure high-quality service
Distributed infrastructure
Our infrastructure is built disaster-resilient from the ground up, so an event causing outage of one point-of-presence will not lead to a connection loss. How is it achieved?
Thanks to the use of the Global Session technology, if one of the nodes is unavailable, traffic is automatically directed to another node closest to the client.
Points of presence in Europe, USA and China and the CIS provide minimal latency for customers from different continents.
Dynamic filtering adjustment
The FlowSense system constantly monitors all data streams going to the client's server, monitors anomalies and automatically detects the type of attack.
The protection parameters are then dynamically adjusted for this type of attack using BGP FlowSpec (RFC 5575) and our system API.
Static content caching
Under the protection of StormWall, the site will work faster, as large files are automatically cached in the RAM of our servers and delivered to clients instantly.
Random access memory works ten times faster than SSD disks.
Our HyperCache technology relieves a significant part of the load from the server, allowing it to do only "useful work", and the site - faster to respond to requests.
How to order StormWall DDoS protection service
Use the service by choosing one of three work options:
With the help of a consultant
Chat with our online consultant
or call us.
Our experts are always online, available 24x7 to help you connect in just 10 minutes.
On one's own
Choose a suitable payment plan and click «Order».
You then will be able to take all the necessary steps to enable and configure protection on your own.
Send a request
and our manager will contact you during the working day.
We have been working at the international market since 2013.
During this time, we have implemented more than 8000 projects in 60 countries.
We use cookies to make the site faster and more user-friendly. By continuing to use the site you agree to our
Privacy Policy