DDoS protection for TCP/UDP services
Our DDoS protection for TCP/UDP services works by filtering out all malicious traffic types and can be connected via an IPIP/GRE tunnel, by TCP proxying, or via physical connection.
We offer subscription plans customized for various services, differing in features, performance, and price. All of the plans, however, have certain common features making our service one of the most efficient protection solutions. Specifically, we have the Standard subscription plan suitable for small-scale web apps, Business plan for business applications, and Enterprise plan for the most critical systems.
Rate
Standard
Business
Enterprise
Leased IP addresses
(included in the price)
1
1
1
Additional rented IP address
BGP support, the ability to announce your addresses (no restrictions)
L3-L5 attack protection
L7 attack protection (HTTP / HTTPS)
Possible (contact us)
Possible (contact us)

Legitimate bandwidth included in the subscription
(excess is possible)

Maximum response time to a request
60 min
30 min.
15 min.
Expert AntiDDoS Support

Guaranteed availability under SLA, not less

99%
99,2%
99,5%
Purpose

Special offer for small Internet services

Effective solution for business applications

Solution for business critical applications

Price per month

180 $

400 $

By request
Business plan
Effective solution for business applications
---
BGP support, the ability to announce your addresses (no restrictions)
L7 attack protection (HTTP / HTTPS)
contact us
Legitimate bandwidth included in the subscription (possibly exceeded)
Maximum response time to a request
30 min
Guaranteed availability, not less
99,2 %
---
Enterprise plan
For big companies
---
BGP support, the ability to announce your addresses (no restrictions)
L7 attack protection (HTTP / HTTPS)
contact us
Legitimate bandwidth included in the subscription (possibly exceeded)
Maximum response time to a request
15 min
Guaranteed availability, not less
99,5%
---
For all packages:
Maximum coarse bandwidth - more than 3.5 Tbit / s
Maximum fine packet filtering bandwidth - over 1.6 Tbit
The volume of transmitted traffic is unlimited
The operating mode of those. support - round the clock
Connection time
- 15 minutes
Who needs our service
Protecting TCP/UDP services from DDoS attacks will be equally beneficial for end customers who need to protect their gaming servers, business applications, VoIP services, etc., as well as service providers such as ISPs, hosting service providers, and datacenters.
Why you need your TCP/UDP services protected
01
DDoS attacks are growing in number and power year upon year
02
By launching DDoS attacks, malicious hackers are trying to disrupt normal operation of your web applications. Protecting TCP/UDP services can help minimize the risks created by malicious activity
03
Thanks to TCP/UDP services becoming attack-proof, your web applications operate more stable and reliable, ensuring smooth interaction for your customers.
04
Being absolutely transparent for end users, the StormWall TCP/UDP protection service will cause no inconvenience to them whatsoever.
StormWall advantages over other solutions
*
*

Upon request, we will provide a comparative analysis with other solutions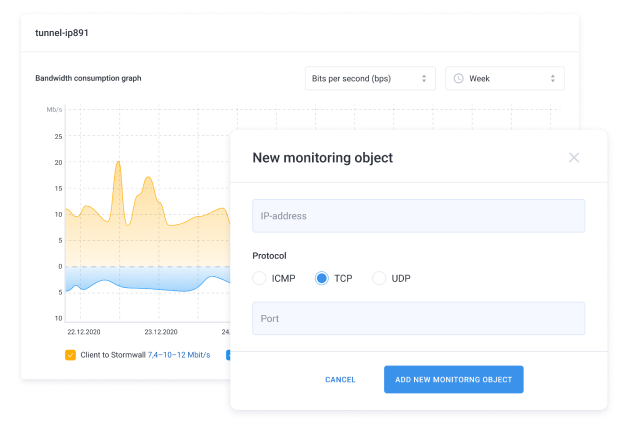 World-class, advanced DDoS protection service that uses AI to detect traffic anomalies, predict an attack and identify its likely scenario
User-friendly and intuitive control panel
Continuous improvement of our cloud security platform by our own team of experts, enabling us to efficiently counter hacker and DDoS attacks of various nature and intensity
Expert 24x7 technical support with an average response time of just 5-7 minutes
Guaranteed availability of the protected web resource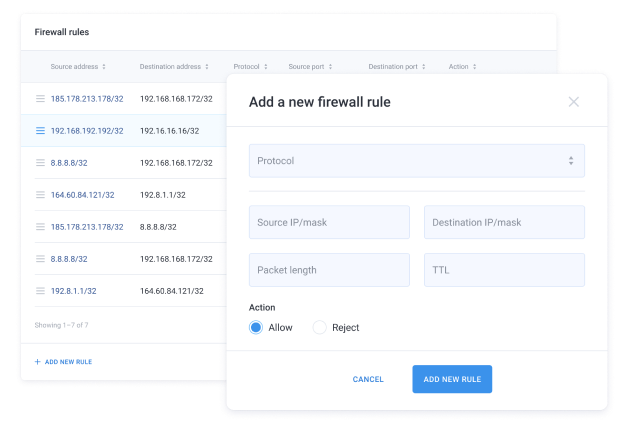 What your company will get
Reliable protection of TCP/UDP services from DDoS attacks
Unlimited amount of filtered traffic
No restrictions on ports number on your server
Filtering at Layers 3 through 5 of the OSI model
How to connect the TCP/UDP protection service
The connection is made through an IPIP/GRE tunnel or using a proxy.
01
IPIP/GRE tunneling can be employed if you use a Unix-like operating system (e.g. Linux or FreeBSD) or a specialized router (Cisco, Mikrotik, etc.). In this case, we assign you a secure external StormWall IP address. In fact, your server just gets another IP address, a secure one, and you see the actual IP addresses of all the users.
02
TCP proxying is used if your server runs Windows. In this case, all requests to the server will come from the same IP address, and you won't know the actual IP addresses of the users.
Points of presence
bandwidth without connection inspection
(stateless)
bandwidth with connection inspection
(stateful)
Germany (Frankfurt)
fra.stormwall.network Equinix FR5
fra2.stormwall.network e-Shelter FR1
USA (Washington)
was.stormwall.network
Equinix DC3
China (Hong Kong)
hkg.stormwall.network
Equinix HK1
Kazakhstan (Almaty)
alm.stormwall.network
Connection via
Singapore
sg.stormwall.network
Equinix SG3
How we ensure the high quality of our service
ZeroNAT Tunnels Technology
NAT technology was invented in the 1990s to reduce the usage of public IP addresses on the Internet. These days, the technology is often used for other purposes, including for tunneling in anti-DDoS services. We do not use NAT for our tunnels (or elsewhere in our network).
When you use a tunnel for protection, you see actual IP addresses on your server. This helps to achieve maximum performance (NAT consumes lots of resources), while reducing latency, and avoiding NAT-related problems. Moreover, the number of TCP/UDP ports that can be protected is unlimited!
Triple Filter: triple traffic cleaning
All of your server's inbound traffic is cleaned up in three stages:
Edge routers. Over 100 edge routers all over the world are set up to discard traffic that should never reach your servers. This protective layer makes our clients resistant to 100+ Gbps attacks, with TCP and UDP amplification attempts entirely blocked at this stage.
Hardware filters. Most of the TCP/UDP flood is blocked at this layer. Thanks to the use of hardware-based filtering appliances, extremely high packet processing speeds are achieved. The filtering network is built in such a way that evenly distributes the load between a number of appliances.
Stateful filters. The fine-filtering layer is where the most complex and sophisticated attacks are blocked, including bot-based ones. For HTTP traffic, this layer includes our BanHammer HTTP filtering system.
Global Session
Our infrastructure is built disaster-resilient from the ground up, so an event causing outage of one point-of-presence will not lead to a connection loss.
How it is achieved? Thanks to our Global Session system, all our filtering points all over the world "know" whenever a visitor has a connection to your server, and in case one point-of-presence becomes unavailable traffic will be automatically redirected to another location nearest to the client.
BanHammer: HTTP flood filter
BanHammer is our system for filtering out HTTP floods, precisely tuned based on dozens of thousands real-world attacks that had targeted our clients' websites.
Despite the name, there are no actual "bans" - we use intelligent filtering methods based on behavioral and signature analysis, enabling to minimize false positives while maximizing the percentage of flood traffic being filtered out.
How to order protection of TCP / UDP services from DDoS attacks
Use the service by choosing one of three work options:
With the help of a consultant
Chat with our online consultant
or call us.
Our experts are always online, available 24x7 to help you connect in just 10 minutes.
On one's own
Choose a suitable payment plan and click «Order».
You then will be able to take all the necessary steps to enable and configure protection on your own.
We have been working at the international market since 2013.
During this time, we have implemented more than 8000 projects in 60 countries.
We use cookies to make the site faster and more user-friendly. By continuing to use the site you agree to our
Privacy Policy