VDS / VPS servers with DDoS protection
VDS / VPS service with DDoS protection is a lease of a virtual dedicated server with administration rights.
Sites or applications hosted on this server will be protected from any type of DDoS attacks from the very first second after launch.
Depending on your resource needs (number of cores, RAM, disk size and protection option), you can choose one of four tariffs.
Rate
VDS1
VDS2
VDS3
VDS4
CPU cores
2 vCPU
4 vCPU
6 vCPU
8 vCPU
CPU frequency
2.3 GHz
2.3 GHz
2.3 GHz
2.3 GHz
RAM
2 GB (DDR-4 ECC)
8 GB (DDR-4 ECC)
16 GB (DDR-4 ECC)
24 GB (DDR-4 ECC)
Disk volume
40 GB SSD RAID-1
60 GB SSD RAID-1
80 GB SSD RAID-1
120 GB SSD RAID-1
Protection

Protection of 1 domain (Personal plan, 25 Mbps)

Geographic location

Germany (Frankfurt am Main) - fra.stormwall.pro

Price per month
175,16 $
218,68 $
270,18 $
329,28 $
For all packages:
Legitimate bandwidth included in the subscription (no overshoot) - up to 100 Mbps
Maximum coarse bandwidth - more than 3.5 Tbit / s
Maximum fine packet filtering bandwidth - over 1.6 Tbit
The volume of transmitted traffic is not limited
Calculator
Configuration
Protection of 1 domain (Personal plan, 25 Mbps)
140 $
Who is the service for
Hosting VDS / VPS with DDoS protection is recommended for web projects with increased requirements for fault tolerance, performance and data protection.
Servers for business applications and online games
It is also a great option for rapidly growing projects as resources can be added on the fly.
Why you need VDS / VPS with DDoS protection
01
A virtual server is more convenient to administer than a physical one, and renting it is much cheaper
02
DDoS protection nowadays is essential for any server on the Internet
03
It is quick and easy to organize parasitic traffic to an unprotected virtual server, while eliminating the consequences of an attack is time-consuming and expensive
What your company will get
Speed ​​up your web services. Easy change of tariffs and service parameters without rebooting
Free migration of an Internet project from the current hosting to a secure virtual server. No additional costs for hardware and software
Protection against all types of DDoS attacks, including previously unknown
Self-managed virtual server similar to IPMI intelligent interface
Advantages of the StormWall service over other solutions
*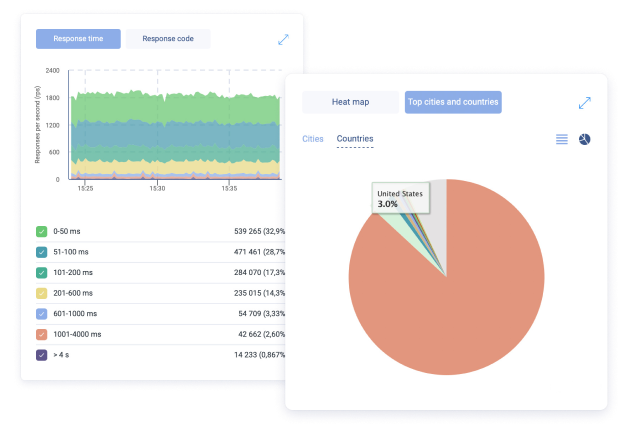 Quick installation - your server will be ready to work in a few minutes!
VDS / VPS of all clients are isolated from each other and do not affect "neighbors". The resources allocated to your company are guaranteed to serve only you with stable performance, without "surprises" that happen on budget VDS-hosting
VDS / VPS are hosted on servers with processors no weaker than Intel Xeon E5, and data is stored on external Enterprise-level storage systems, which provides increased reliability and performance margin in case of "influx of visitors"
Every night, the entire VDS / VPS is automatically backed up, and if something happens to the data, you can quickly restore the backup for any day (the duration of storage of copies is determined by the tariff plan)
The cost of VDS / VPS with DDoS protection is significantly lower than when purchasing a server and protection service separately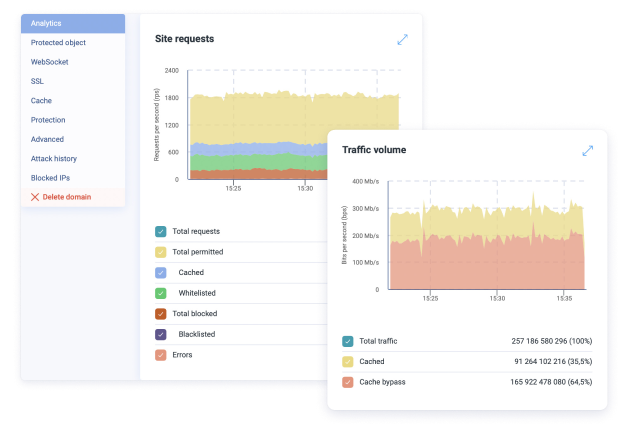 How VDS / VPS hosting works with DDoS protection
Protection can be connected using an IPIP / GRE tunnel, through IX or by physically connecting to the StormWall network at one of our sites.
01
A protected virtual server is deployed on a fault-tolerant cluster running VMware. The virtualized resources are dynamically distributed between physical servers, so that increased load on neighboring virtual servers will not affect the quality of service.
02
Your systems will continue to run with maximum uptime thanks not only to high-performance servers and high-bandwidth interfaces, but also to our traffic filtering system. The traffic directed at VDS/VPS is processed by our system at Layers 3-4 of the OSI model, protecting your assets from infrastructure attacks aiming to cause congestion and system overload.
03
If you use VDS/VPS to host websites, it is advisable to enable protection of inbound HTTP/HTTPS traffic, which includes analyzing requests to your server and optimizing traffic delivery.
How we provide high quality service
Triple Filter
All traffic going to the server is cleaned in 3 places:
Border routers.More than 100 border routers scattered around the world are configured to cut off traffic that should not be reaching the client. It is this level of filtering that allows our clients not to be afraid of attacks of several hundred gigabits per second, since all TCP / UDP amplification is blocked here.
Hardware filters.At this level, most of the TCP / UDP flood is blocked. Thanks to the use of hardware filters, it is possible to achieve tremendous packet processing speed. The filtering network is designed to evenly distribute the load across multiple hardware filters.
Precision filters.This is a fine filtering layer where the most sophisticated attacks, including attacks using bots, are blocked.
FlowSense system
The FlowSense system constantly monitors all data streams going to the server, monitors anomalies and automatically detects the type of attack in progress.
Based on the results, the security parameters are dynamically tuned using BGP FlowSpec (RFC 5575) and the API of our system.
BanHammer: HTTP flood filter
BanHammer is an HTTP flood filtering system honed in tens of thousands of real attacks on our clients' sites.
Despite the name (as historically it was), there are no "bans" - we abandoned them in favor of intelligent filtering methods based on behavioral and signature analysis. This allowed us to reduce the percentage of false positives to minimal values, while at the same time maximizing the percentage of filtered requests.
Points of presence
bandwidth without connection inspection
(stateless)
bandwidth with connection inspection
(stateful)
Germany (Frankfurt)
fra.stormwall.network Equinix FR5
fra2.stormwall.network e-Shelter FR1
USA (Washington)
was.stormwall.network
Equinix DC3
China (Hong Kong)
hkg.stormwall.network
Equinix HK1
Kazakhstan (Almaty)
alm.stormwall.network
Connection via
Singapore
sg.stormwall.network
Equinix SG3
How to order VDS / VPS with DDoS protection
Use the service by choosing one of three work options:
With the help of a consultant
Write to an online consultant
or call us.
We recommend this method if a DDoS attack is already underway and you have no time to understand the intricacies. Our experts are available online 24x7 and will help you deploy your protection within 10 minutes.
On one's own
Choose a suitable tariff and click "Order".
In this case, you can independently complete all the steps to activate and configure protection.
Send a request
and our manager will contact you during the working day.
We have been working at the international market since 2013.
During this time, we have implemented more than 8000 projects in 60 countries.
We use cookies to make the site faster and more user-friendly. By continuing to use the site you agree to our
Privacy Policy