Increased efficiency, increased filtering power, HTTPS without disclosure, and a new innovative product
19 August 2021
In the first half of 2021, we continued to develop our technologies – we improved the capabilities to repel powerful modern DDoS attacks and brought to the market an innovative software sensor for protection against DDoS attacks of any level.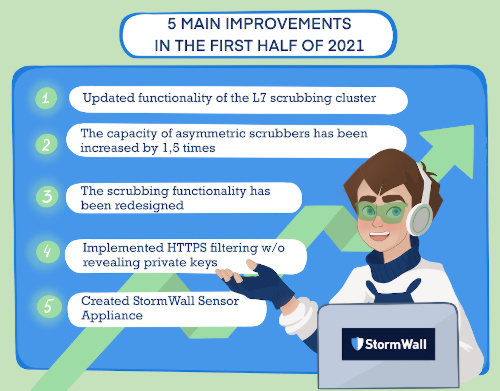 5 main improvements in the first half of 2021
1. The functionality of packet scrubbing has been improved:
implemented deeper DNS traffic filtering, which allowed us to use more precise protection methods for authoritative and root DNS servers of our clients;
The NTP filter has been redesigned, the algorithms for filtering games based on UDP have been improved, and the VoIP (SIP) filter has been improved.
The functionality of the L7 scrubbing cluster has been updated: the source code of the HTTP/HTTPS filtering module has been completely rewritten in C language, which significantly increased its efficiency and performance.
The filtering module collects data from all our points of presence, analyzes it in real-time and makes a decision to block traffic in the event of an attack. The module is able to detect DDoS attacks using botnets already at the earliest stages, making it possible to block bots from the first request, without blocking real visitors. Moreover, the blocking is not enabled for the entire site, but only for the attacked locations.
2. The capacity of asymmetric scrubbers has been increased by 1.5 times in each of our points of presence. Increasing the capacity will allow you to effectively repel the most powerful (over 2 Tbit/s) attacks that may become a reality in the coming months.
3. The ability to filter HTTPS without revealing private keys is implemented. Banks, payment services and other customers who do not want to disclose their SSL private key (for example, to meet the requirements of PCI DSS) will now be able to use our filtering at the application level using HTTPS without disclosing the private key.
4. The StormWall Sensor Appliance has been released. The solution will be available to our customers on September 1, 2021. StormWall Sensor Appliance is an innovative product that increases the transparency of the Edge infrastructure and allows you to detect DDoS attacks regardless of whether DDoS protection is active. The solution will be useful primarily for Internet, hosting, and cloud service providers: it will help them optimize the costs of DDoS protection and at the same time ensure the maximum quality of customer service.
5. Three new providers have been connected to our infrastructure – Telia and Cogent in Washington and PCCW in Hong Kong. These providers are among the largest in the world, they provide the "core" of The Internet. The infrastructure of PCCW and Telia providers corresponds to the Tier-1 level, and Cogent is close to it. Connecting to them allowed us to improve connectivity and reduce traffic delays for customers from the United States and Southeast Asia.
We use cookies to make the site faster and more user-friendly. By continuing to use the site you agree to our
Privacy Policy